Too bad that title is a liar. I have no idea what I'm doing. But that doesn't mean I can't talk about it! So I've decided to start building Lizard City in Godot, which is a pretty dang cool 2D-centric game engine that functions a lot like Unity (so I've been told). Thing is I don't know much about game engines and haven't really coded anything extensively since my 2014 thesis project, and that was done in ActionScript (don't laugh).

So I've been trying to learn this engine by following some

Youtube tutorials

and reading the Godot API. Here's a screenshot of the super thrilling game developed so far:

So yeah, the code is pretty slow going, but at least I'm not *totally* spinning my wheels. On the other side, the artwork is chugging along. And since I use art as a way to de-stress after staring at broken if statements for hours, I have a new speedpaint of the Shallows I can share! I will be going back into this a bit to rework the lights and darks, but it at least gives you some insight into that first part of the world:
Powered by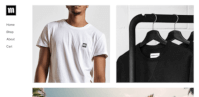 Create your own unique website with customizable templates.